Meet Dr. Richard Manuelian DDS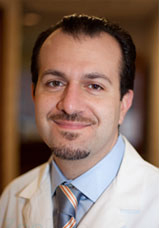 Dr. Richard Manuelian received his Bachelors of Science in Biology from New York University's College of Arts and Science in 1998. In 2002, he received his Doctor of Dental Surgery from New York University College of Dentistry. He continued his training as a resident at St. Luke's - Roosevelt Hospital's general dentistry program in Manhattan. His education and training during this time allowed him to develop his skills in dentistry while working alongside many top dentists who are specialists in their fields.
While in private practice, Dr. Manuelian continues his education and stays current with the latest dental advancements by attending dental seminars and conferences throughout the country. He is also a member of the American Dental Association, Academy of General Dentistry, New York State Dental Society and the Queens County Dental Society.
Dr. Richard Manuelian takes pride in treating his patients with the utmost in quality and comfort. He continuously strives to provide excellence in dental care to his community.
Expect Excellence from Manuelian Family Dental
At Manuelian Family Dental, we are committeed to providing the highest level of personalized care and attention to all our patients, while delivering the highest quality of dental treatment. We provide our patients with the latest in dental technology, including implants and digital x-rays. Dr. Manuelian provides the most conservative, painfree methods to maintain your teeth and give you a beautiful smile.
Our Team focuses on building personal relationships with patients, their families and friends, while providing excellent dental care that looks and feels great. With quality care, we at Manuelian Family Dental have developed a loyal patientbase.
If you need a compassionate, experienced dentist and dental team, we at Manuelian Famly Dental would love to meet you!


What People Are Saying...
This was my 2nd appointment with Dr. Manuelian and it was great. I had 2 filling filled. He was personable, explained me the process and was very patient. He put my dental chair concerns at ease. Will definitely be back in 6 months for my cleaning! -- Michael F., Forest Hills, NY
I had a wonderful experience with this office. Dr. Manuelian was informative, patient and very well-skilled. The novacain injection was pain-free and I appreciated the fine work with my fillings. I'm returning shortly to have a crown put in. I highly recommend this dentist! -- Albert L., Astoria, NY
Dr. Manuelian and his staff are the best! Very knowledgeable and informative, and I appreciate the fact that this is the first dentist I've been to in years that isn't trying to sell me on expensive products I don't need. Professional and friendly, they took great care of me and my teeth! -- Kelly R., Queens, NY
Questions? Comments? Please call us at (718) 267-1600 or email us and we'll be more than glad to answer your questions.